Decipher's latest VOD Audit report is now available and with 84% of data collection automated, it provides the biggest and most robust picture of the UK video on demand landscape yet. It dissects the biggest 20 video on demand services in the UK giving an unrivalled overview of all VOD in the UK. 
The new expanded report reveals that Apple's iTunes service comprehensively trounces the competition by offering a total of 65,063 video assets, 193% larger than the next largest service Xbox Video, and 275% larger than the largest TV VOD service BT TV/YouView. The biggest growth overall in VOD was seen in  Sky's NowTV  service which is 208% larger than in September's Q3 report. Other providers who grew strongly include Xbox Video (87%), Sky TV (+35%) and Netflix (+26%).
BT's YouView box has grown its on demand offer by 9% and leads all other digital TV platforms. BT's service, boosted by the provision of Sky Movies and some growth in catch-up TV, is now 33% larger than Virgin and 50% bigger than Sky.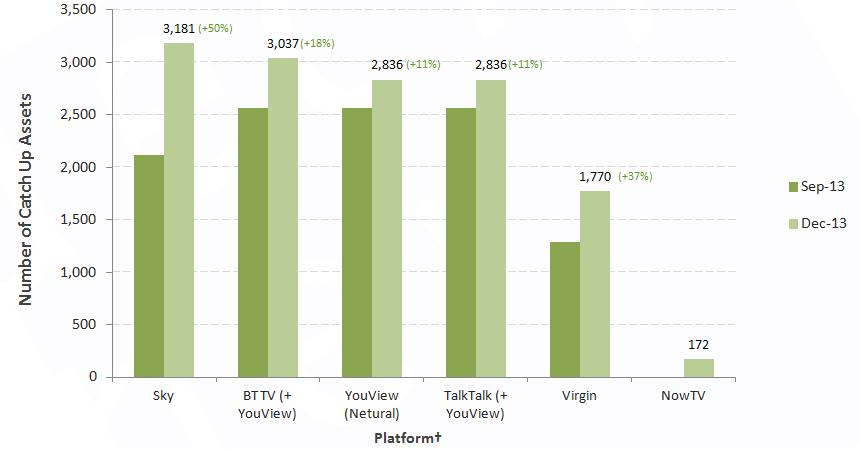 More broadly, it is services offering buy to own or electronic sell through catalogues (e.g.iTunes, Blinkbox) who dominate supply of VOD ; their  catalogues, on average, contain over 20,000 episodes & films. This is 63% larger than the average digital TV service (e.g. Sky, Virgin) and 161% larger than online sVOD services (e.g. Netflix).
The UK's most popular category of on demand, catch-up TV, is led by Sky who have grown by 50% to offer 3,181 programmes; this beats BT YouView, last quarter's 'Catch-up King', by 144 shows. Alongside Sky, Virgin also showed catch-up growth, expanding their offer by 37%.
Interestingly, whilst there was no significant change in Virgin Media's own on demand offering, the Liberty Global-owned firm have recently added Netflix access to their TiVo set top boxes, giving their TV service  a boost of over 12,000 episodes & movies. Decipher's definitions of collection mean Netflix isn't included in their overall numbers, but its service is now accessible via their box.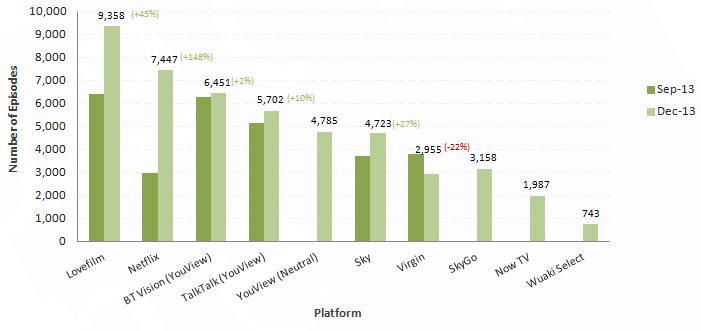 TV box sets has been an area of intense marketing in the UK over the past 3 months, most significantly by Sky and Netflix. However, the largest provider of box sets is in fact iTunes, with 41,547 episodes available. The strongest subscription service (online and digital TV) is Lovefilm which offers 9,358 episodes. Sky, who have  heavily promoted their box set offering in the last quarter, provide only 4,732 episodes to view. However they have increased the number of episodes available in HD on the service by 497%; this is the strongest growth in the category since last quarter. Blinkbox were second  in growth of HD box sets, expanding their offering by 157%.
For the provision of movie content, the largest range is again offered by iTunes, with over 13,500 titles of offer to either buy or rent. Discounting purely transactional film services, Amazon's Lovefilm service offers the biggest range of titles (2,733).
These snippets are just a selection of the findings from the Q4 2013 VOD Audit. If you would like more information you can contact Lloyd Mason at lloyd.mason@decipher.co.uk or Ravi Dosanjh at ravi.dosanjh@decipher.co.uk.
The report is our quarterly review of video on demand (VOD) on the major UK digital TV platforms and online services. To see a full list of services collected, click here. Data was collected over a 4 week period in December 2013 and is delivered as a detailed briefing which maps out the most important headlines, trends and changes through a series of graphs, charts and tables.